I saw this bit of ridiculousness in the Buffalo News today:
The eastbound entrance ramp to the Thurway at Exit 49 (Depew-Lockport-Route 78) will be temporarily closed from 8 p.m. Wednesday until 6 a.m. Thursday, due to a maintenance project, the state Thruway Authority announced.

A signed detour route will be in place for motorists planning to travel eastbound. That route will direct traffic west at Exit 49 to the westbound Thruway to Exit 52 E (Buffalo-Walden Avenue) and back to the eastbound Thruway.

The authority will activate portable signs and Highway Advisory Radio 1610 AM to advise motorists of the closure.
Umm… what? The Thruway Authority wants traffic heading eastbound on I90 from the Transit Road ramp to go west all the way to Walden to turn around and then head east? Does that make any sense at all? Here's their suggested route: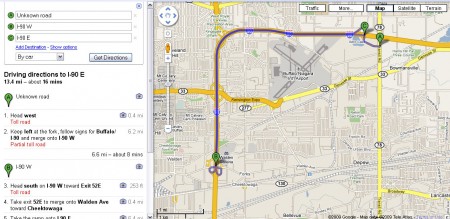 13.4 miles gets you… right back where you started, and makes no progress towards your destination.
Here's an alternative route. I don't want to confuse anyone with it, but it consists of a grand total of 3 turns: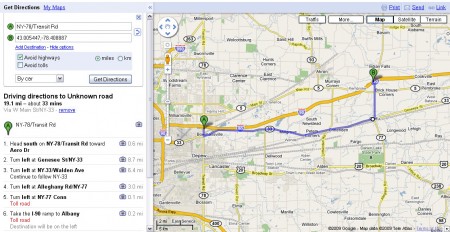 Take Genesee (NY-33) to NY-77 and you're on the Thruway at Pembroke (the next exit eastbound on I-90). Only 19.1 miles and you're well on your way to wherever you were headed.
And if you prefer an even lower mileage route (which I estimate to be a bit slower)…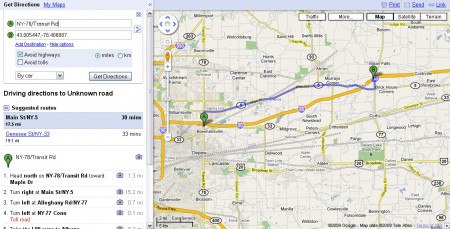 Transit to Main (NY-5) to NY-77 and you're there in only 17.5 miles!
So what possible reason could the New York State Thruway Authority have in sending you the "scenic" route that takes you at a minimum 11 miles out of your way? They get to collect $.15 from you for sending you westbound, and then $.85 for sending you back east! Yes, that's right, not only are you saddled with the inconvenience, but they're also going to charge you $1.00 for it.
Incredible.