So on Saturday I received my 6 bumGenius one size pocket diapers! YAY! I took them all apart and looked them over, read and re-read all the instructions sent to me by growinggreenBums and was ready to get these things in use! But first I had to get the detergent to wash them with. I only had Gain at home, and this is not good for the diapers with all the additives and fragrances I want on my other clothes.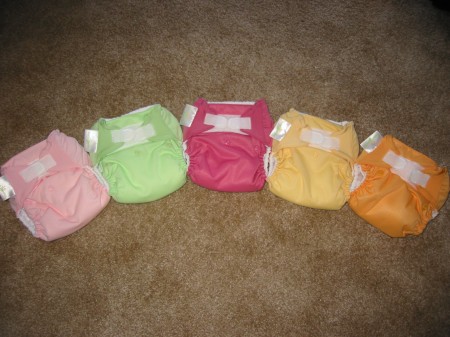 Quite honestly, I only had time to look in Target for detergent, and they didn't have anything on the approved list I had with me. So on the advice of a few friends, I went with Purex Free and Clear. I'm probably breaking all the rules here, but I'm going to try it out and see if any problems come up.
I made sure I had my extra rinse cycle on and washed them per the instructions, had to dry them in the dryer cause there was no more sun that late in the evening, and then stuffed them before bed!
This morning I put the first cloth diaper on my baby! I was amazed at how soft it felt, and how great it looked on her!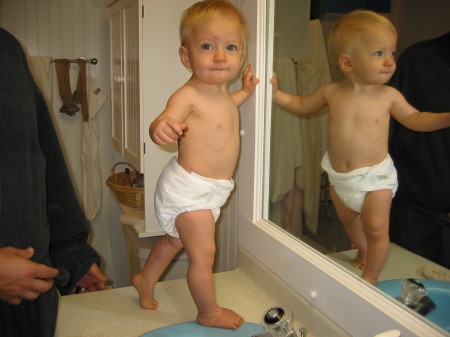 So far she has only worn two of the six. I am doing them every other change, and she is wearing a disposable for naps and bedtime until I get more. Each time she has only wet, but I know the inevitable is coming…:)
For each wet diaper, I have rinsed them immediately and let them hang over the tub to dry a bit. I won't be washing them again until tomorrow or Thursday. I am hoping that will help with any odor.
Now onto deciding if this is for me. So far, I like what I am seeing and feeling! Haven't gone through a washing cycle of dirty diapers yet, but that is soon. I also don't know if I should stick with bumGenius, or mix and match them? Try different brands? Another issue are accessories, or do you need wet/dry bags and the like? I'm not even sure what other items I might need!
More later on in the week when I do more washing!