New year, new role at the East Aurora Co-op
As was recently announced to our membership, I have taken on the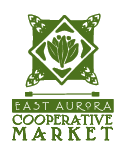 role of President of the Board of Directors of the East Aurora Cooperative Market.  While it's certainly not what I expected to have happen when joining the Board last year, I'm looking forward to guiding the group through the next few critical months as we move from finalizing our financing, through construction, to finally having an open store we can all be proud of and enjoy shopping in.  Outgoing President, Mary Aiken, has done a tremendous job in leading the co-op through the capital campaign process and we are all grateful for the countless hours she invested in making sure this project is successful.
If you happen to be considering running for one of three Board seats up for election this year, there are two Meet the Board events coming up that are opportunities to come and ask questions and find out what being a Board member entails:
Aurora Brew Works 191 Main Street, East Aurora Tuesday, January 27 from 6:00-8:00 pm
Taste 634 Main Street, East Aurora Wednesday, February 4 from 6:00-8:00 pm

Kindly RSVP to board@eastaurorafood.coop. We hope to see you there!

For further questions or more information, including a Board Member Candidate Packet and Application, contact us at board@eastaurorafood.coop.  Completed applications are due by February 27, 2015.
It's an exciting time to be part of the East Aurora Co-op.  I'm excited about the challenges it will bring and the rewards we all will reap when the doors open later this year!