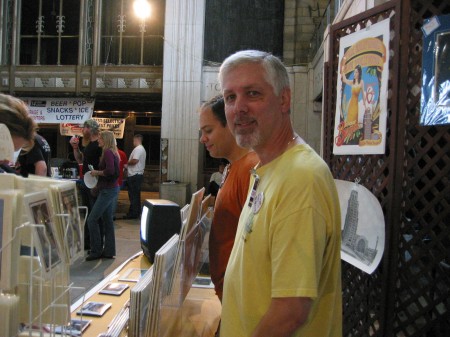 Last Thursday, our good friend Mike Miller passed away. Many people knew Mike from the work he did for the Buffalo Central Terminal, Broadway Fillmore Alive, and most recently Preservation Buffalo Niagara. We knew Mike first as a friend, and a great advocate for Wesern New York second.
You often hear people say, "He's the nicest guy you'll ever meet" about a person. With Mike, this was genuinely the truth. I've never known another individual to be so selfless, so caring, and so genuine in everything he said and did. That was Mike – always quick to point out a person's redeeming qualities when others might not see them. Always the level-headed mediator. Always willing to give people the benefit of the doubt.
Whenever we would have Mike over for dinner, he'd remind us he was a "meat and potatos" guy, which was both literal (seriously – we learned not to try and give the guy broccoli) and figurative. Mike was never interested in the politics of a situation, he just wanted to get things done. It's one of the things that made him so successful at what he did. I'll always remember the first CTRC board meeting after Russell had left and Mike assumed the role of President. He said, "My goal is to replace myself as soon as possible," feeling that he was inadequate for the job. However, not only did he not need replacing, his work with the CTRC and BFA led to him getting his dream job as Executive Director of Preservation Buffalo Niagara.
Mike helped Amanda get her foot in the door at M&T when she was frustrated with her own career path, and was always available to her when she needed to vent about anything. He was thrilled to find out when Amanda was pregnant and called himself "Uncle Mike" to Ariella. In another month, he would have been able to celebrate her first birthday with us.
When we'd have him over for dinner, he'd arrive with a magnum of white wine and it would be gone by the end of the night. That led to one unfortunate incident of me passing out in the bathroom one night, twisting my ankle in the process, which led to ongoing ribbing about me being a lush. Sadly, ironically, last week I scheduled a physical therapy appointment for Tuesday to deal with the lingering effects of that night. I'll have to cancel it to spend one last day with the instigator.
Losing a member of the CTRC family is sad. Losing our president and guiding light will be difficult. Losing our friend is hardest of all. God Bless, Mike. We miss you.