Punaro Glen Construction: Some time in 2020…. I think
Time flies when… uh… you're stuck at home due to the Coronavirus. Somehow I've managed to go nearly 3 months without posting an update here. There have been the occasional Instagram pics if you're following along there, but I'll bring everyone up to speed here too.
We had about a long lull in January/February where not much happened because of snow. Originally, the builders were going to clear the driveway with a bulldozer they left at the top of the hill. Turns out that bulldozer didn't work in temperatures below 35F, so it was pretty much useless for that purpose. There were a few times we hiked/snowshoed up the hill to keep some progress going. We had walkthroughs to go through electrical, HVAC, plumbing, and tile. We had discussions on the stairway design.
Let's talk about the electrical meetings. We were warned beforehand to expect it would take 2-3 hours to go through all the electrical. This is a complete, room by room walkthrough to determine exactly where every light, switch, and outlet will be in the house. You discuss any special electrical needs (like the separate circuit in my wiring closet, and where to run all the CAT6 cable). You discuss the finer points of the National Electric Code, such as stairways with a light above the landing also need a light at the top and bottom of the stairs on the same switch. Now, we went into this meeting with a 95% complete listing of all the outlets and lights by room, where switches would be used, and if there would be automation what type it was. My Excel sheet for this was over 100 rows long. It still took us two meetings, probably 5 hours total to go through everything. For the most part, everything went according to plan. We did make a few tweaks as we went along, but most of the time is just spent on placement of lights and switches. I can't imagine how long it would take if we weren't as prepared as we were going into those meetings.
Once the weather started to improve and snow was no longer an issue, things started to actually progress. The garage doors got installed. HVAC and plumbing rough-in happened. Electrical started going in. They were probably 75% through the electrical rough-in when the COVID-19 shutdowns started happening. As you might image, the possibility of even more delays was crushing. Just like everyone else, we had to deal with the stresses of school being shut down and having to be home all the time. I continue to work from home, but Amanda ended up losing both her jobs when the churches and preschool closed. Besides that, we're living with Amanda's parents so personal space is already somewhat limited and we need to be extra cautious to not contract the virus as there's really nowhere to isolate in our current living arrangements. This would have been a great time to be stuck in our own brand new house.
Amazingly, they've still been able to make progress on the house, albeit at a slower than normal pace. The electrical got finished up before non-essential construction got shut down. We were still able to get inspections done which allowed for moving on to insulation. What would have normally been done with multi-person crews is now being done by individuals to meet state requirements. Where some of our builder's normal subcontractors aren't working, they're doing work on their own. I'll take slow progress vs. no progress any day.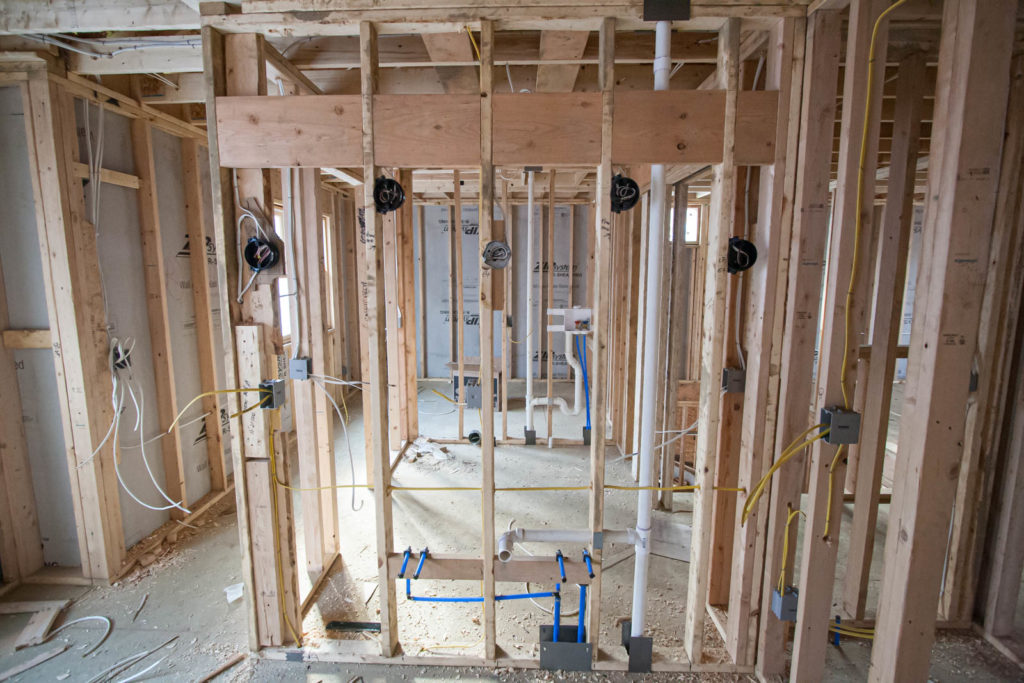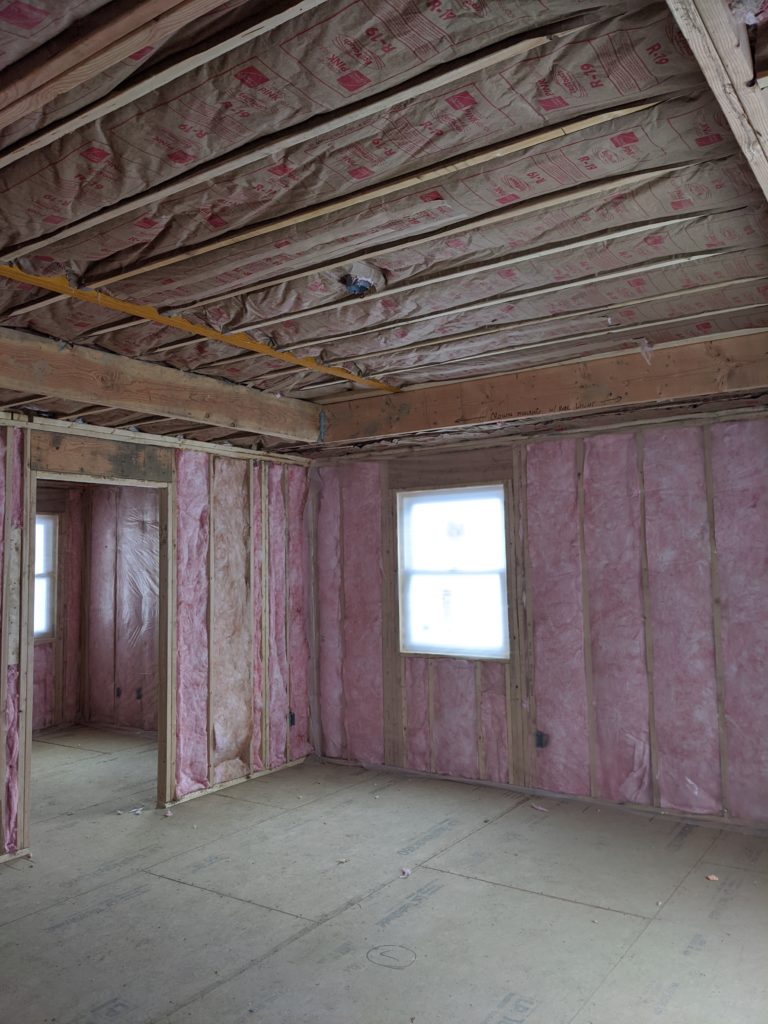 There's still lots to get done. Utilities still aren't run up to the house. No heat means no drywall finishing. Siding? Someday. And with many manufacturers being shut down, some of the materials we picked out (like tile) may not be available. We just have to put orders in and wait and see when or if they will be fulfilled.
What has been nice is the ability to go and hang out at the house when the weather is nice. It gives us somewhere to go and get out of the house and not be around anyone. We pick up garbage. We hung Cambree's birdhouse. Maybe best of all is just sitting on our unfinished porch and enjoy a beer, watch the woodpeckers, and imagine what it will be like when it's all done.