Running for East Aurora Coop Board of Directors
Amanda and I were early adopters of the East Aurora Cooperative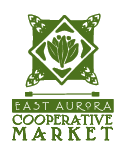 Market.  We signed up as member-owners back in 2010 after learning about their ambition to open a member-owned food market focusing on locally produced items.
Earlier this year, the coop announced they were looking for board candidates. The group is set to announce their site location on Saturday and will be launching a capital campaign shortly after.  It seemed like an exciting time to jump in and help and do my part to help bring this to fruition.
The board has endorsed a slate of four candidates for four open seats.  Yes, that probably doesn't mean a very tough race, but democratic membership control is one of the seven cooperative principles – so if you're a member-owner, please exercise your right to vote.  If you're not already a member but would like to become one or get more information, visit eastaurorafood.coop.  If you'd like more information about me (or just want to say hi!) I'll be at the announcement event on Saturday or you can email me at derek@punaro.com.