Is Instacart REALLY Worth It?
If you've ever wondered if Instacart was a good way to make some extra money, wonder no more! Shoppers are desperately needed right now as many current shoppers go back to school, or to a full time job. And with the amount of people jumping on the "Why go into a store to shop for myself when there are better things to do" bandwagon, now is the PERFECT time to sign up! Here are some facts to help you make a decision that could very well put over $500 in your pocket A MONTH:
Instacart is an online shopping app that allows you to order items you would typically shop for yourself and have them ready for pickup at the store, or delivered right to your home, or office!
How does Instacart Work as a Shopper?
There are two separate apps Instacart has; one for customers, and one for shoppers. As a shopper you go to the store you are shopping that day, get your cart ready for shopping (see pic below), open the app and wait to get a "batch".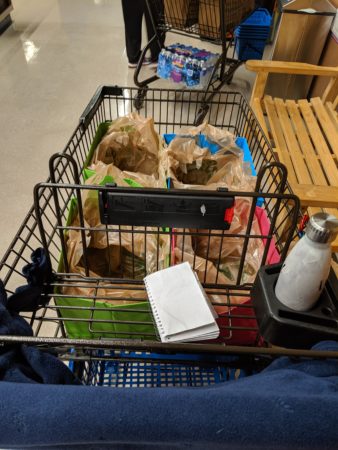 A Batch is the customer's order. It shows a picture and description of the item they want, and you go shop for it. Once you find the item, you scan it and it gets put into the "done" column. You put it into a bag in your cart, and move on to the next item.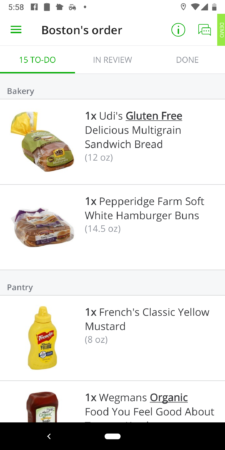 Find all the items in the customers order and then head to the checkout! There, the checkout person will scan your phone, have you swipe your Instacart payment card (the customers' information is all ready there, so you can't see their credit card number), give you the receipt and you are off to staging!
Staging Your Order
You have to "stage" the order so that either the delivery person, or customer service from the store you are in can get the order to the customer. This involves printing stickers with the customer's name on them, and placing them onto shelves, refrigerators and freezers to keep the items (such as groceries) fresh and in good condition for the customer.
Getting Hired
Once you follow any of the links given here you will be asked to choose an interview date and time. During the interview you will learn more about Instacart, shop for some demo items, give your availability and, get a home store to start shopping at! You will also be given your Instacart credit card at this time as well.
There are 4 paid training sessions you will go through to give you all the  details of how to be an ISS (In Store Shopper), which is a definite advantage! After that, you shop on your own. Easy!
Soooo…. What Are You Waiting For??
I have been shopping with Instacart for three months now and have made over $2000. It is great knowing you are helping people, and doing something you love. If this post has piqued your interest, click on any of the links above! They go to my referral page, and you'll be able to get more information and sign up! Or click here to get yourself some extra cash!
Thanks for reading and HAPPY SHOPPING!!!