For Christmas we decided that rather than add to the unending piles of toys we would take the girls on a mini-vacation.  After being enticed by some online deals for water parks in Niagara Falls, ON, we settled on Great Wolf Lodge.  We were not disappointed.  Since a few people asked me how Great Wolf Lodge was because they were considering taking their families, I figured I'd take the time to write up a comprehensive review.
The Hotel
First off, the hotel is themed, as you probably already guessed.  There are animatronic animals, plenty of woodsy, camping, lodge-type decor.  It's a bit eclectic, not quite as cohesive as a Disney-themed resort.  Great Wolf Lodge makes Disney's Wilderness Lodge look understated, if you can believe that.  The hotel, open now for five years, still seemed well kept-up, even with the daily abuse of hundreds of kids.  The lobby and accompanying animatronic display doubles as a morning and evening activity area where events range from sing-alongs, story time, scavenger hunts, and dance parties.
There are many room types, all "suites" of some sort, ranging from simple one or two bed arrangements, to rooms with fireplaces, Jacuzzi tubs, and even themed bedrooms for the kids.  We opted for one of the cheaper two bed suites which had a semi-walled off sitting area with a couch and table, as well as a separate table and chairs.  All rooms have a refrigerator and microwave.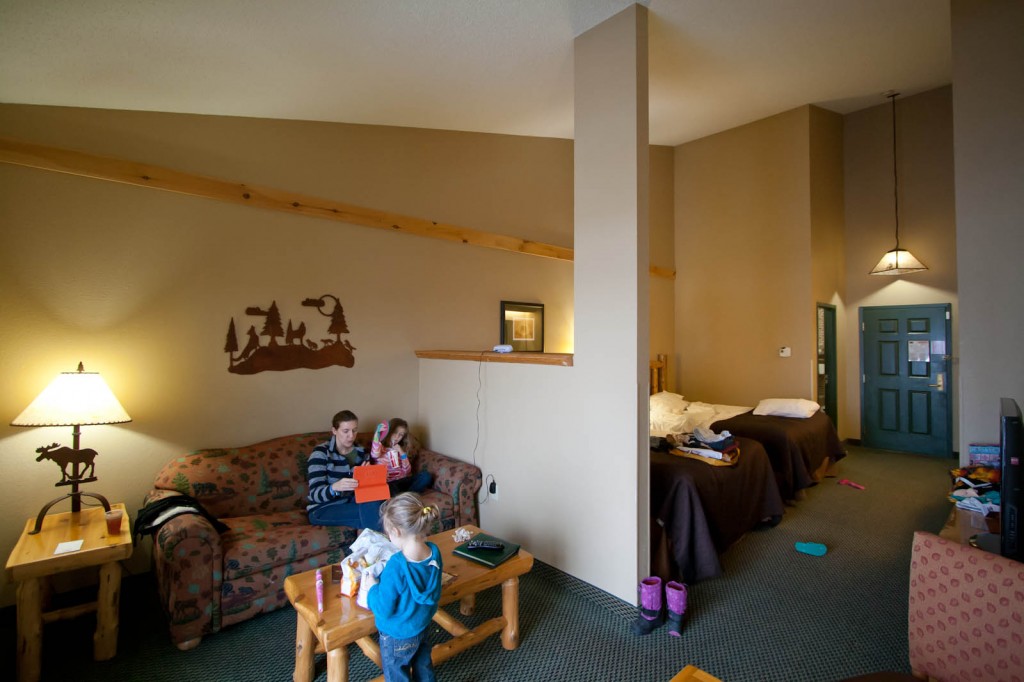 You're given an RFID wristband at check in that serves as your room key, allows for charging back food and merchandise purchases to your room, and lets you scan to get photos taken on the so-equipped water slides which you can review later and opt to purchase.
The Water Park
The main attraction, of course, is the water park.  Admission is included with your room and is limited to resort guests only, and one visitor per registered guest at an additional cost.  Also important to note if you're planning a trip – you are entitled to use the water park from 1:00pm on your day of arrival through closing on your check-out day, even though you need to be out of your room by 11:00am.
The water park is really well equipped for kids of all ages.  Considering we took a five and not-quite-three year old, we were really hoping that there would be enough for them to do.  They had no trouble staying occupied.  Kids will be given a colored wristband based on their height which determines what they are allowed to ride.  The large pools are zero-entry (gradually sloped rather than steps) so kids of all ages can play in a water depth comfortable to them.  They have water slides specifically for little kids that Cambree had no problem with.  The wave pool was pretty tame, and fun for the kids in the shallow end.  There is even a large raft waterslide that the whole family can ride (Cambree was terrified of this ride, Ariella love it) and Ariella was tall enough to ride all but two or three of the slides, albeit a few she had to ride with an adult.  Life jackets are available in several sizes and at no cost for the non-experienced swimmers.  Lounge chairs and tables were available throughout the park and we were able to get a table each day we were at the park.
Two minor "complaints" we had were that the "lazy" river wasn't so lazy – it was quite crowded with plenty of kids not on rafts but rather shoving through everyone that was floating on one.  Disney was pretty smart in this regard and made their lazy rivers circle the entire water park so it really spread people out and had a high capacity.  The other issue was that without anyone else with us to watch the kids Amanda and I weren't able to go on a couple of things, like their water coaster which required 2 or 3 adults to ride it.  Next time we might have to join forces with another family to give the adults a little more time to explore some of the big kid things.  Regardless, this trip was really for the kids so we pretty much let them lead us around what they wanted to do.
The Food
We weren't really sure what to expect from the restaurants going in, but we figured since it was our first trip we would probably stay on-site mostly and try out a bunch of them.  In fact, while we did have plans to head over to Rainforst Cafe for dinner one night, that never happened largely because we didn't feel like dealing with parking on Clifton Hill.  We were overall really impressed with the food variety and quality, especially the dinner buffet, which at least made you feel like you were getting your $21-23 per adult, $10 per child worth  (under 4 eat free, adults' beverages not included, alcohol available).
There are a number of restaurants on site.  We ate dinner at the Antler Shanty buffet both nights and lunch on the day we left.  The buffet was impressively stocked with a saute special, an entree line which had ribs and mussels both nights, and chicken, fish, pizza, and pasta options, a carving station which served up pork loin one evening and roast beef the next, a salad bar, cold salads, soup and chili, a special bar for the kids who will only eat chicken fingers, mac & cheese, and french fries, and numerous desserts and ice cream.  We were really happy with the buffet, even though each night cost us close to $80 with drinks and tip.  The lunch buffet wasn't quite as impressive as one whole serving line was shut down, but the price was also accordingly dropped to $13/$8, so not that bad.  The buffet also served breakfast, but we didn't partake this trip.
There is a quick service restaurant on the pool level called Northwoods Pizza Company which serves pizza by the slice or whole pizzas, wings, a variety of hot and cold sandwiches, salads, and a variety of other options.  The attached Bear Claw Cafe has a selection of cupcakes, pastries, and an ice cream shop.  We had lunch at Northwoods on the day we arrived.  This is more standard quick-service faire, and the prices are a bit high for what you get.  They do offer a room service pizza/wings/drinks deal for about $40 that seemed reasonable when you compared it to the $80 we spent at the buffet.
There are two food places inside the water park itself.  One is a quick service that has some of the options that Northwoods Pizza offered, as well as hot dogs, burgers, chicken sandwiches, poutine (it is Canada, after all), nachos, etc.  Again, don't expect too much and you'll be happy with the convenience.  We found that if we got to the water park when it opened at 9am, we could have a decent lunch and stay right through to early afternoon and leave when the crowd was nearing it's peak.  The other is a poolside bar that serves some bar-type appetizers and $5 16oz Molson Canadian drafts.
Finally, there's a coffee shop in the lobby that also serves muffins, bagels, donuts, yogurt, etc.  We utilized this each morning, getting prepackaged cereal and milk for the kids and coffee and baked goods for us.  This kept the overall meal costs down and was a better fit for our family than the buffet, especially after stuffing ourselves the night before.
I will note that the website also lists the "Camp Critter Bar & Grille" which during our stay didn't really seem open as a separate dining establishment.  Twice we were seated in that area when we went to the buffet, so it seems they may adjust by hotel occupancy, time of year, or something.
Next time I think we might bring cereal and breakfast items with us, and maybe some lunch things too.  The food bill adds up pretty quickly and I know we would want to go to the buffet again for dinner, at least once.
MagiQuest
And now for the optional extra that won't be so optional once your kids see it.  MagiQuest is an interactive electronic game that is embedded throughout the hotel (read: unavoidable).  The deal is you buy a wand (one for each kid, right?) at $12-25, then activate it for $11 which lets you play for 4 consecutive days.  They enter some info about the player into their computer, give you a book of quests, and then send you off to the Quest Stones to begin your adventure.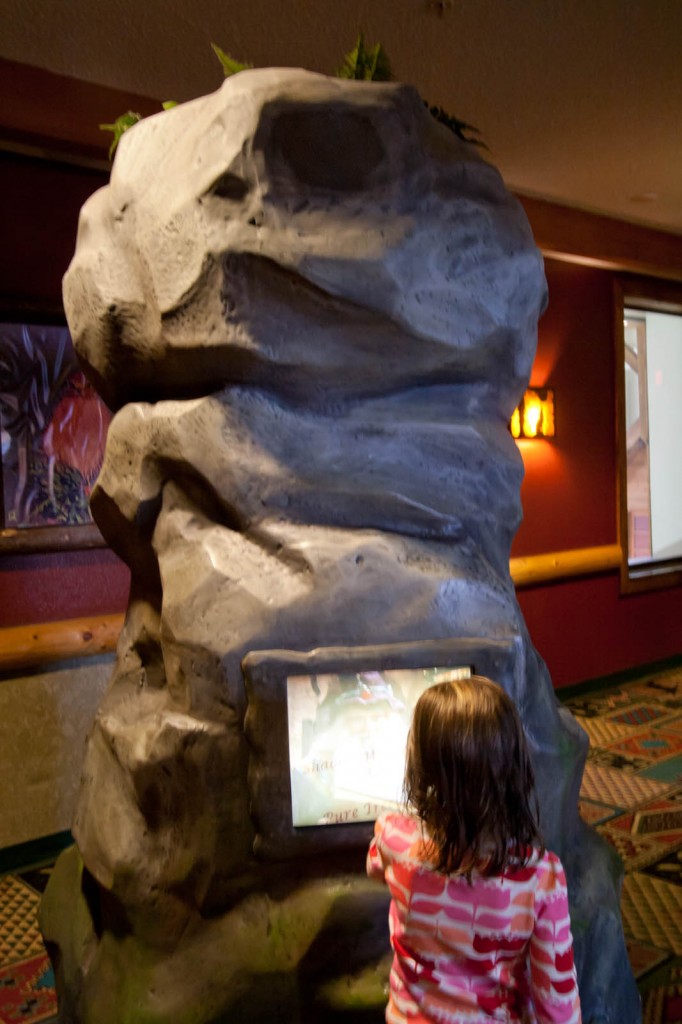 The game has a bunch of touchscreens and objects that interact with the wand.  Each quest sends you off to find a series of objects, sometimes in a limited amount of time, sometimes in a particular order, and when you complete each quest you level-up.  Kids of all ages love this thing (and some parents too).  Other "Magi" running around are happy to give you tips if you're stuck (and you will get stuck) as well as there is usually one staff member wandering the halls.  I will say it's a pretty well done system.  Cambree loved just waving the wand at things and having them light up and talk to her.  Ariella really got into the game, although she needed some guidance that older kids didn't.  We bought one wand for them to share which worked out fine because most of our questing was done while Cambree was napping. In the evenings, the halls are packed with kids running around playing this, sometimes requiring waiting your turn to interact with a particular object, and almost always you will be dodging other kids as you try to make your way from the elevator to your room.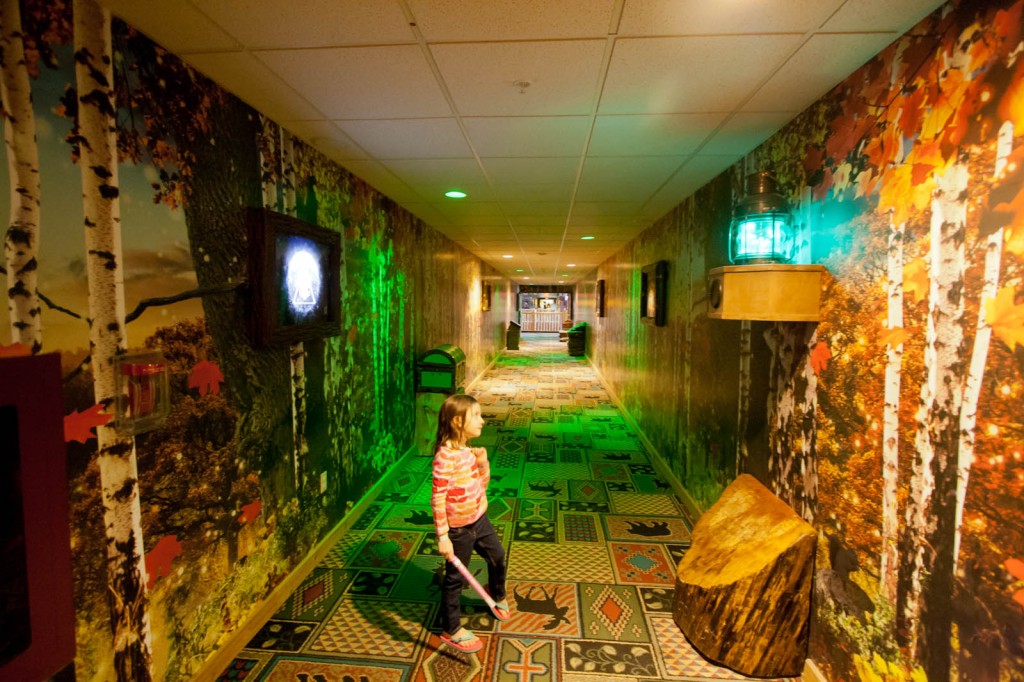 Be forewarned that if your kids are young enough that they need a parent with them on their quests, you will walk your ass off.  The hotel is four stories and the game is embedded on all floors on the closest section of each wing either side of the centrally located elevators (before you get to the guest rooms) and in some of the stairwells.  I had my Fitbit on when I wasn't in the waterpark and I logged 4 miles each day.  With a relatively slow moving 5 year old.  Combine that with running around the water park for many hours each day and it made for some pretty exhausted parents.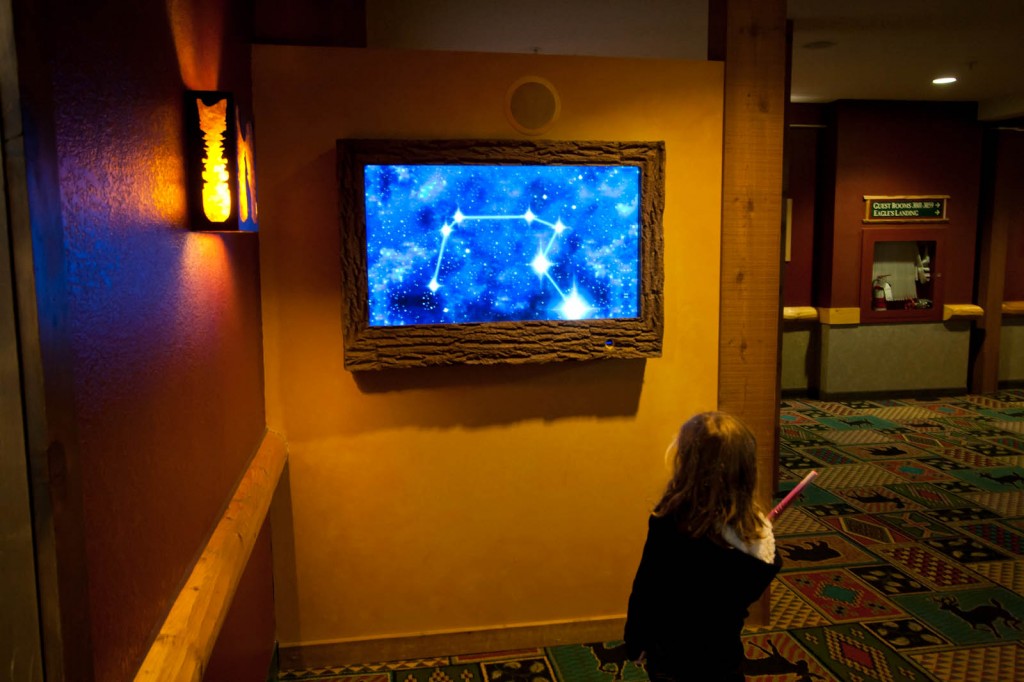 You also have the "opportunity" to buy optional wand toppers that serve different helpful functions in the games.  Thankfully these items aren't necessary, although my observations is that didn't stop a lot of parents from shelling out another $15-20 each for them.  The good part is that you do get to keep the wand, your information and progress is never erased from the system, so if you go back you can start up where you left off (for another $11).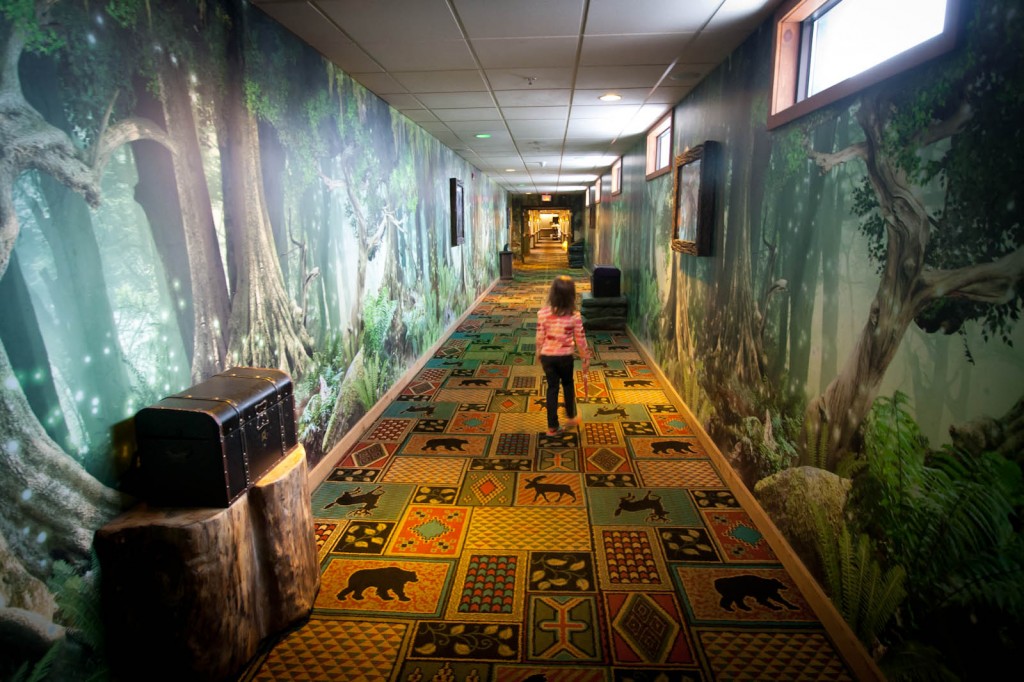 Summary
We did have a really great time.  Great Wolf Lodge is not going to be a cheap vacation, but it's cheaper than flying down to Orlando.  They do offer some add on packages – one which gets you a bunch of random stuff that I didn't think was particularly useful, like late check out, a water park photo, a stuffed animal, and a MagiQuest wand that is limited to one particular one that your girls certainly won't want once they see the pink ones.  Another is a meal package that entitled you to breakfast and dinner at the buffet and lunch at a quick service restaurant, which just seemed like too much food (at not that great a discount).  Having gone once, I don't think I'd opt for any of the optional packages.  There are also a number of other activities that we didn't partake in, like the kids or adults spas ($$$$), the parent-free kids programs (Cambree was too young), or the outdoor pool or mini-golf (closed for winter).  We did waste $20 in the arcade playing a bunch of games that spit out tickets.
Amanda and I both agreed that we would go back.  They are always offering some sort of package deal on their site or via Groupon or to their email list, as well as AAA members can get a discount, so don't ever go and pay full price.  As a nearby getaway, though, it was a fantastic way to spend three days and forget that it's still winter outside for awhile.  Well, almost.