For several months the East Aurora Cooperative Market has been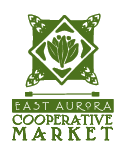 working to raise funds via our capital campaign.  This fundraising effort is a critical step in moving forward with construction of the market as it shows to our outside lenders that we have committed member-owners who will shop at the market and make it successful.  So far we've raised in excess of $625,000 and are well on our way to our goal of $875,000, but we are running out of time.  While our membership ranks now are about 950 strong, we still have yet to hear from almost 1/3.
A couple things will be happening over the next few weeks.  First, we are holding two events where you can come to learn more about the co-op, become a member, and/or make a contribution to the capital campaign.  The first event is tomorrow at Craft Tap House from 6pm-8pm.  I'll be there, so stop in and say hi and we can talk co-op! The second event is next Thursday at Salut Wine & Spirits, also from 6pm-8pm.  So whether you prefer beer or wine, we have you covered!  Swing by our Facebook page and let us know you're coming, or just stop in if you decide at the last minute.
We will also be ramping up our outreach calls to members we haven't heard from yet.  Remember – if you can't participate, that's ok!  We still need to know though so we can focus on getting in touch with those who may be willing to contribute.  If you haven't made contact yet – please do so by calling Sheila Conboy (716-912-0672), Mike Benzin (716-316-1090) or send an email to campaign@eastaurorafood.coop.
Our deadline to hit our goal is November 15th.  Shortly after that we will hold a member meeting to discuss what comes next.  It's our sincere hope that we will be talking about the beginning of construction and not the process of returning campaign funds because we didn't make it.  It's up to you to help make it happen, so let's wrap this campaign up and take a big step forward towards getting those doors open!