Select Comfort – customer service failure
If you follow me on Twitter or Facebook, you surely saw my interactions with Select Comfort customer service today. Here's the entire story.
In October 2005 we decided it was time for a new bed. Not wanting to skimp on quality and being interested in getting a bed that would accommodate our different sleeping preferences, we opted for a Select Comfort Sleep Number bed. The bed we chose had dual air chambers and two hard wired remote controls, one for each side. The bed was shipped, we put it together easily, and began using it.
This bed has one major flaw – there is a piece of foam which separates air chambers. What this means is that there is very little support in the middle of the bed causing what is known as the "trench effect". If you actually enjoy cuddling with your spouse in bed, this will be a problem as you will sink in the middle.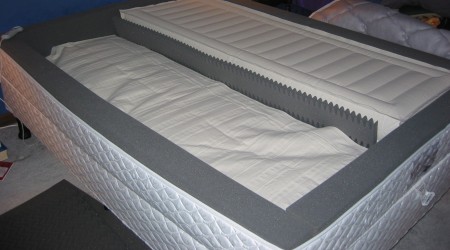 Select Comfort has a 30 day return policy on their beds, but when the bed and the foam separator are new, this problem isn't as apparent. While this has been a minor nuisance since owning the bed, that's not the root of today's issue.
No, today's issue goes back to June of last year. Within a very short time period, both remotes on the bed stopped displaying the number, and showed only a portion of the display, as such: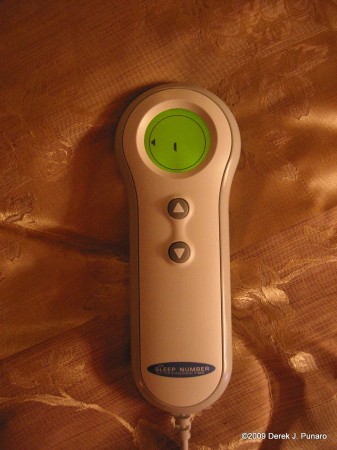 Naturally, I contacted Select Comfort. They replied back with the following:
Thank you for contacting Select Comfort. We're very sorry for the issue you're experiencing with your remote. The wired remotes are permanently attached at the factory and cannot be replaced. When a remote display fails we replace the entire unit.

Please reply with your preferred shipping address and we'll get a replacement pump on the way to you.
Fantastic! Never mind that technically the two year full replacement warranty was up in October of 2007, eight months after that they were still willing to replace the faulty part. This makes sense though for a couple of reasons. First, Select Comfort used to claim that their beds will last twice as long as a traditional innerspring mattress. This claim has been scrubbed from their website these days, but many articles, such as this one from Forbes, repeat the company's claim. Knowing this tidbit, wouldn't you expect the electronic component to last more than two years without needing to be replaced? Secondly, this part of the bed doesn't get abused at all, or even used on a daily basis. We might have touched the remotes once a week at most to make sure the bed was still at the appropriate setting. Obviously this was a failure of the component, and they were willing to replace it. The new pump and remotes arrived shortly after and all was again working.
Until a week ago.
Amanda's remote started having the same problem again. The above photo is actually of her remote, today. This was only one year after Select Comfort replaced the unit, which I thought was awfully quick to fail. I dug up my original email to support and replied back to it with my problem. This was the response I got:
Thank you for contacting Select Comfort. We're very sorry for the issue you're experiencing with your remote. The wired remotes are permanently attached at the factory and cannot be replaced. When a remote display fails we replace the entire unit.

Upon reviewing your account I've found that you are currently in the pro-rated portion of your warranty. This means that Select Comfort will cover 68% of the replacement cost for the defective component. Your cost to replace the pump under warranty is $144.00 plus tax and shipping. All warranty sales are considered final with a 30 day 100% warranty; after which it reverts back to your existing warranty coverage.
They want me to pay $144 to replace this thing a second time? I didn't find that to be an acceptable answer since it failed so much faster than the first one. Interestingly enough, earlier in the week I got an email from Select Comfort saying you could now contact them on Twitter @SleepNumberHelp. I figured this was a good opportunity to try out this new support channel. First, I thought it might be interesting to see if anyone else was contacting them via Twitter, so I ran a quick search. Lo and behold I'm not the only one with this problem!
"anybody else have problem with their sleep number bed controls, the lcd has basically died so you can't read the numbers,
4:29 AM Jun 9th
wagardner

@wagardner Does the remote still operate the bed? That's definitely something we can help you with. You can reply, or call 1-800-240-0028
6:51 AM Jun 9th from web in reply to wagardner

…

not satisfied with Select Comfort. After 3.5 years it costs me $169.03 to replace the pump that they have problems with it and know it!!
9:33 AM Jun 9th

@wagardner Sorry you are unhappy. Any manu. defects are covered under the lim. prorated warranty. http://twurl.nl/rtfcos is warranty info
9:58 AM Jun 9th from web in reply to wagardner

@SleepNumberHelp too late. I paid with my warranty. I just didn't expect it since they are discontinuing the controls because of problem
10:04 AM Jun 9th from TweetDeck in reply to SleepNumberHelp

@wagardner The wired pump units are discontinued due to new interference free wireless technology. Remote display is same for each.
10:10 AM Jun 9th from web in reply to wagardner

@SleepNumberHelp huh oh so going to have a problem again in 3.5 years because phone help said the digits were a problem
10:11 AM Jun 9th from TweetDeck in reply to SleepNumberHelp

@wagardner No – shouldn't expect any more issues. LCD going blank is not common. I apologize if you were told differently.
10:13 AM Jun 9th from web in reply to wagardner
Hmm… interesting that someone on the phone (likely a rep that's less conditioned to the official line) tells this person that it's a common issue, only to have the Twitter rep turn around and say it's not. Also interesting that they're no longer making the wired units and are replacing them all with new wireless units! Could it be because they, in fact, do have a lot of problems? No, Select Comfort just wants to give you the latest in "interference free wireless technology". Mmmhmm.
But wait, there's more.
@sleepnumbersara Will there ever be help for the wired remotes that you can't read the numbers on anymore??? Can't tell my #, frustrating
8:51 AM Jun 18th from web

@jenlatimer We can definitely get your pump replaced to a wireless unit under the warranty terms. Give us a call! 1-888-248-0028
9:08 AM Jun 18th from web in reply to jenlatimer

@sleepnumberhelp It is a known problem, fixed already once. Not willing to pay over $100 for a known problem…
9:51 AM Jun 18th from web

@jenlatimer LCD issues aren't common. Replacing w/ wireless unit would allow just remote replacement if issue returned, although unlikely.
10:06 AM Jun 18th from web in reply to jenlatimer

@sleepnumberhelp LCD might not be common, but I scored 2 bum units… only see lines where should be numbers… shame cause I love my bed
10:24 AM Jun 18th from web

@jenlatimer I'm sorry. We'd be able to cover a % based on warr. terms (based on year bed was purchased). Call us if you wish to replace.
10:45 AM Jun 18th from web in reply to jenlatimer
Now, since Select Comfort started twittering at the beginning of June, they've only interacted with a dozen or so people. Interesting that two people already have had pointed out this "uncommon" issue.
Nevertheless, I was going to get my turn. Here's my tweetscript, starting here:
Hey @SleepNumberHelp and @jenlatimer – I also have the repeat wired remote LCD issue. 1st replacement was under warranty, 1 yr later – $144
about 12 hours ago from TweetDeck

What good is a $2000 bed that supposedly lasts twice as long as an innerspring that requires $150 in parts every yr, @SleepNumberHelp ?
about 12 hours ago from TweetDeck

@DerekPunaro Defects in the bed are rare. Sorry about the problem. We'd repl w/ wireless unit – cool new tech. Don't expect further issues.
about 11 hours ago from web in reply to DerekPunaro

Dear @SleepNumberHelp, you'd replace w/wireless at who's cost? You didn't replace it with wireless the first time when it was under warranty
about 10 hours ago from TweetDeck

@DerekPunaro Repl. under warranty terms. Repl w/ wireless is something rolled out just recently due to upgraded technology in those units.
about 10 hours ago from web in reply to DerekPunaro

If this is such a rare problem @SleepNumberHelp then surely you would replace for free since the last replacement you sent also failed.
about 10 hours ago from TweetDeck

@DerekPunaro We have the warranty in place for such issues. Replacement parts carry a full 30 day warr. b4 reverting back 2 orig. bed warr.
about 9 hours ago from web in reply to DerekPunaro

And the only reason to do public customer support via Twitter is to showcase that you stand behind your products, @SleepNumberHelp
about 10 hours ago from TweetDeck

@DerekPunaro We do stand behind our products. We also have fairness 2 maintain & cannot make exceptions 2 the warranty w/o doing same 4 all.

Well @SleepNumberHelp the only reason to not cover a replacement part as if it was new is because it's more likely to fail than the original
about 10 hours ago from TweetDeck

@DerekPunaro I'm sorry you feel this way. Please give us a call at 1-888-248-0028 if you'd like to set up the replacement.
about 9 hours ago from web in reply to DerekPunaro

I'm sorry, @SleepNumberHelp, did you mean I should call for my FREE replacement? Your tweet didn't say.
about 9 hours ago from TweetDeck

@DerekPunaro Again sir, we can replace the pump for you under the terms of the warranty. Warranty info can B found @ http://twurl.nl/ry0fi3
about 9 hours ago from web in reply to DerekPunaro

But @SleepNumberHelp – there is precedent for free replacement outside the warranty period according to your own site http://bit.ly/NmdeC
about 9 hours ago from TweetDeck

"7 years after purchase the wired remote on mine gave… but replacement was within 2 days and free of charge to me." @SleepNumberHelp
about 9 hours ago from TweetDeck

@DerekPunaro Please give me a call when you are able. You can ask for me, my name is Leanne and we can discuss further. 1-888-248-0028
about 9 hours ago from web in reply to DerekPunaro
At this point, I decided to take Leanne up on her offer and give her a call. I first ended up in the wrong queue, but they then transferred me to customer service where I got a regular rep. I said I had spoken to their representative on Twitter who advised me to call and speak to Leanne.
"I didn't even know we had a representative on Twitter!" the rep replied. I advised her that they did, she had some very kind words for Leanne, got in touch with her on their internal IM system, and transferred me over.
We then carried on a very cordial conversation where I reiterated many of the above points again. She flat out said that neither she, nor her supervisors nor managers were allowed to work around the conditions set in their warranty. She said that this policy changed about a year ago.
"So wait, you're saying that you've actually decreased customer service in the past year?"
She replied back that it probably had something to do with the economy or other such bullshit. Regardless, nobody could do anything to fix my problem if I didn't want to shell out the $150. The option I had was to write to the president of the company.
Yes, that's right. My only option for better customer service was to snail mail Bill McLaughlin, President and CEO of Select Comfort. Oh, the irony that a customer who reached out to a company's customer service department via a hip social media tool was ultimately being redirected to mail a physical letter to the company president! This is a clear sign that your company doesn't get it.
What use is it to even bother engaging customers via a tool like Twitter if the employees using it aren't empowered to actually do anything helpful? I pointed out to Leanne that may fly when you're only doing phone support, but this was a very public channel that anyone looking for info about their business would see. We're they really willing to potentially lose sales because of rigid, don't stray from the script customer service?
They were.
I realized at that point that this was obviously not going to go any further, so I thanked Leanne for her time and apologized that I was about to make her job more difficult.
"Well, there's not much I can do about that."
Oh, but there was.
So, I now think it's my duty to teach Select Comfort about the outs of using Twitter. In my estimation, Select Comfort must make considerably more than $150 per bed they sell. We're talking beds that range in cost from $1000 to over $5000, and that's before they upsell you on the expensive custom bedding and pillows. So essentially, all I have to do is prevent the sale of one bed to cost the company's bottom line more than they would have by sending me a replacement to their obviously faulty not so rare now discontinued remote. So I set up two searches in TweetDeck – one that tracks their three online reps, and one that looks for "select comfort" and "sleep number". Any time someone comments that they're considering or have just bought a sleep number bed, I'll jump in with something like this:
@mosb Consider returning your Select Comfort bed before your trial runs out! Parts break and once you're out of warranty – big $$.
about 7 hours ago from TweetDeck in reply to mosb
Or this:
@radiochick57 Avoid the select comfort sleep number beds! They break and are expensive to fix!
about 6 hours ago from TweetDeck in reply to radiochick57
Maybe even a retweet, like:
RT @peg_adams: @MrsMcElrath We have a Sleep Number bed now and I wouldn't recommend it. (@SleepNumberHelp)
about 6 hours ago from TweetDeck
Or my favorite, addressed to someone who was actually in the store looking at beds at the time:
@destinycherish Don't buy a sleep number bed! The parts break and after the 2 year initial warranty, you'll pay big bucks to fix it!
about 4 hours ago from TweetDeck in reply to destinycherish
Since my tweets are duplicated over at Facebook, I've already had a couple comments there:
Rich Mattingly at 3:46pm June 24
Well, I certainly won't buy one now 🙂

Amanda Racette-Twentyfive at 5:00pm June 24
I won't buy one either. Your work here is done. It amazes me how willing companies are to let bad press get out there. For instance, any WNY'er who is in the market for a fence, DO NOT use Classic Fence. I would sue them if I could – our fence looks way older than it should and it's warped. They warranty their gates for 30 days. 30 days?!?
You see, Select Comfort, here's the problem inherent in the system. I have as much access to your customers as you do on Twitter. Who do you think a potential customer is going to listen to more, an average guy that seeked them out to specifically warn them against purchasing a certain product, or the voice of the company telling them everything's going to be alright, pay no attention to the man behind the curtain? In fact, interjecting my input directly to your potential customers is nearly effortless – I just sit back and wait for the search column to light up! I'm going to react to these people faster than you will, and I guarantee that I'll cost you sales.
But hey, you know, that economy's a bitch. So you should definitely continue to fortify your rigid customer service policies and crack down on all us people that, for shame, might expect your multi-thousand dollar product to last longer than a pair of jeans.
Good luck with that.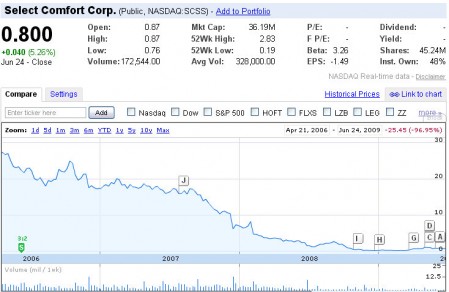 Don't stop here…  be sure to read Part II: Select Comfort learns the real power of Twitter